Creative, inspiring and accessible, the new collection invites you to dive into the latest decorating trends.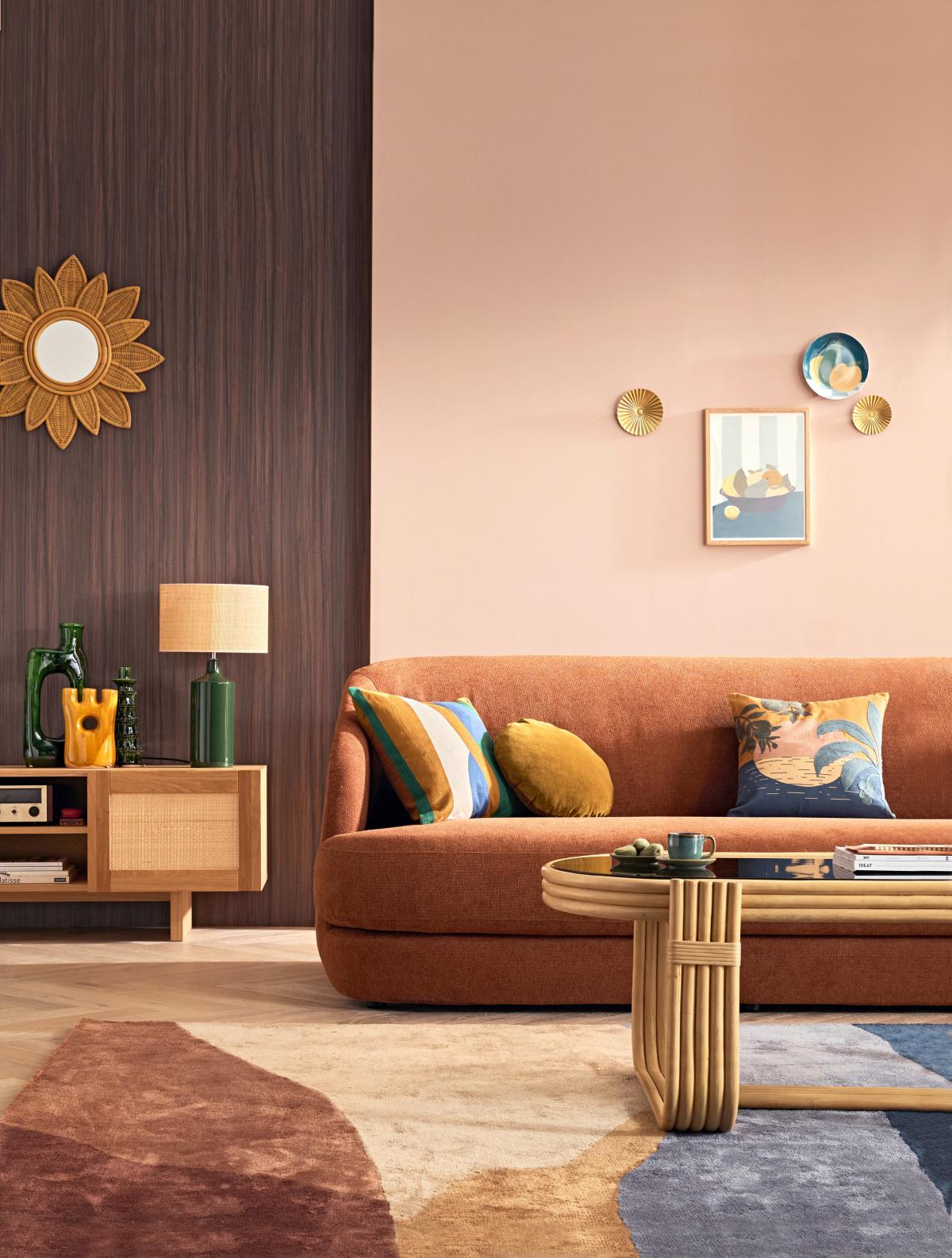 New decorating trends
The Nordic influence is always present, favouring an essential minimalism, close to nature. Natural materials and handicrafts influenced by the cultures of the world are used. Danish vintage 50's design is asserting itself and the vintage 70's style is making its presence felt.
ARTY RIVIERA
It is in the heart of a colourful and sunny Côte d'Azur that the Arty Riviera house invites us to meet. In a bohemian style combining charm and culture: rattan, plant fibres and woven rugs pay tribute to the craft and artistic know-how of this southern region. Inspired by the artists and decorators of the second half of the 20th century, the motifs decorate the furniture, tableware and lighting. When in a cameo of Calanques blue and golden yellow, the Vallauris-inspired glazed tiles illuminate the Maison Arty Riviera.
SUPER BOLD
Curves always
Influenced by the 1970s and their comfortable and welcoming design, the designers at La Redoute Intérieurs have created the Super Bold house. The "inflated" seats create a round and supple style, which can be seen on the table bases and in the rounded shapes of the tubular structures... Wool, thick-ribbed velvet and bouclette blend with steel and transparent or smoked glass to create a deformed and rounded atmosphere. A mixture of anti-conformism and comfort!
MILANO SIXTIES
Urban dolce vita
Set course for Italy and its artistic capital, Milan. From a vintage perspective - refined and warm - Milano Sixties revisits the urban and creative effervescence of the dolce vita of the 1960s. Often entirely covered in textile, the seats adopt flexible and architectural forms. With curved structures and butted half-rounds, the furniture in stained wood or walnut has a modern "retro-futuristic" look... even daring. On the fabrics, the patterns inspired by geometric or abstract forms, rytment the House.
ORGANIC SCULPTURAL
Nature at work
In line with the "organic" design of the 40s and 50s, which has been revived in recent years, the "Organic Sculptural" house is a universe whose forms are freely inspired by natural elements. Rocks or pebbles influence the bases of coffee tables, sofa seats, the play of superimpositions... to create sculptural pieces. The contemporary palette with its light tones, both mineral and luxurious, creates a sensitive and inspiring atmosphere.
ESSENTIAL NATURE
Mineral variations
Our designers have imagined a house where a sober and minimalist way of living reigns, a reassuring and warm atmosphere. Light woods, natural materials, clean design, textured textiles on a background of neutral and soft colours... Contemporary nature inspires this collection.