For the end of the year 2022, Triode is full of design novelties that embody American expertise, elegance and creativity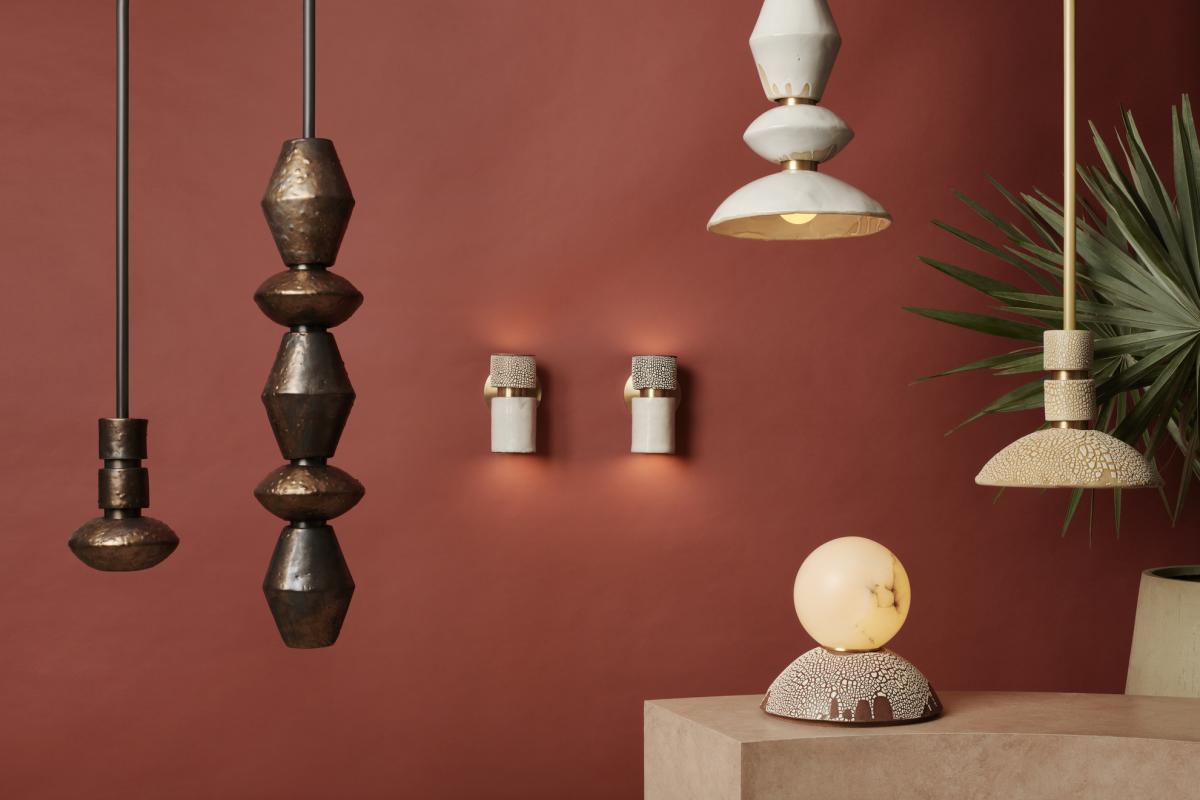 NEW LIGHT FITTINGS
Discover a new collection of 7 lights entitled Pilar, created by the designer Rosie Li in collaboration with the ceramic studio MONDAYS. 
Design suspensions with reassuring shapes signed Allied Maker or RBW.
A selection of BOWER mirrors creating the illusion of an opening onto another space.
Contemporary furniture with a minimalist style by the Ben and Aja Blanc design studio. And finally, the Gesture collection by Calico Wallpaper, born of an exploration of the shapes and textures that can be produced by a spontaneous brushstroke.
Pilar Mixed Column Round
Rosie Li x MONDAYS
Handmade ceramic, glass and brass
Price on request
Hanging lamp Pilar Mixed Column Cone
Rosie Li x MONDAYS
Handmade ceramic, glass and brass
Price on request
Pilar Round mixed column
Rosie Li x MONDAYS
Handmade ceramic, glass and brass
Price on request
Pilar Round Alabaster Pendant - Double
Rosie Li x MONDAYS
Handmade ceramic, alabaster and brass
Price on request
Pilar Alabaster Table Lamp
Rosie Li x MONDAYS
Handmade ceramic, alabaster and brass
Price on request
Pilar Round Pendant
Rosie Li x MONDAYS
Handmade ceramic, glass and brass
Price on request
Pilar Saucer Pendant
Rosie Li x MONDAYS
Handmade ceramic and brass - Rosie Li
Price on request
Array 2 Pendant - Allied Maker
Brass, glass and wood
Price on request
Akoya hanging lamp - RBW
Hand-blown opal glass, perforated metal
Price on request
Drift Lighting System Chandelier - John Pomp
Drift Lighting System Chandelier
Glass and steel
Modular suspension system - 3, 5, 7 or 11 pieces
Price on request
Palace mirror - Bower
Walnut frame
Price on request
Doorway Mirror - Bower
Walnut frame - Bower
Price on request
Pillar Bench table - Ben & Aja White 
White oak
Price on request
Collection Gesture  - Calico Wallpaper