Limited Edition WAYNE Toile de Jouy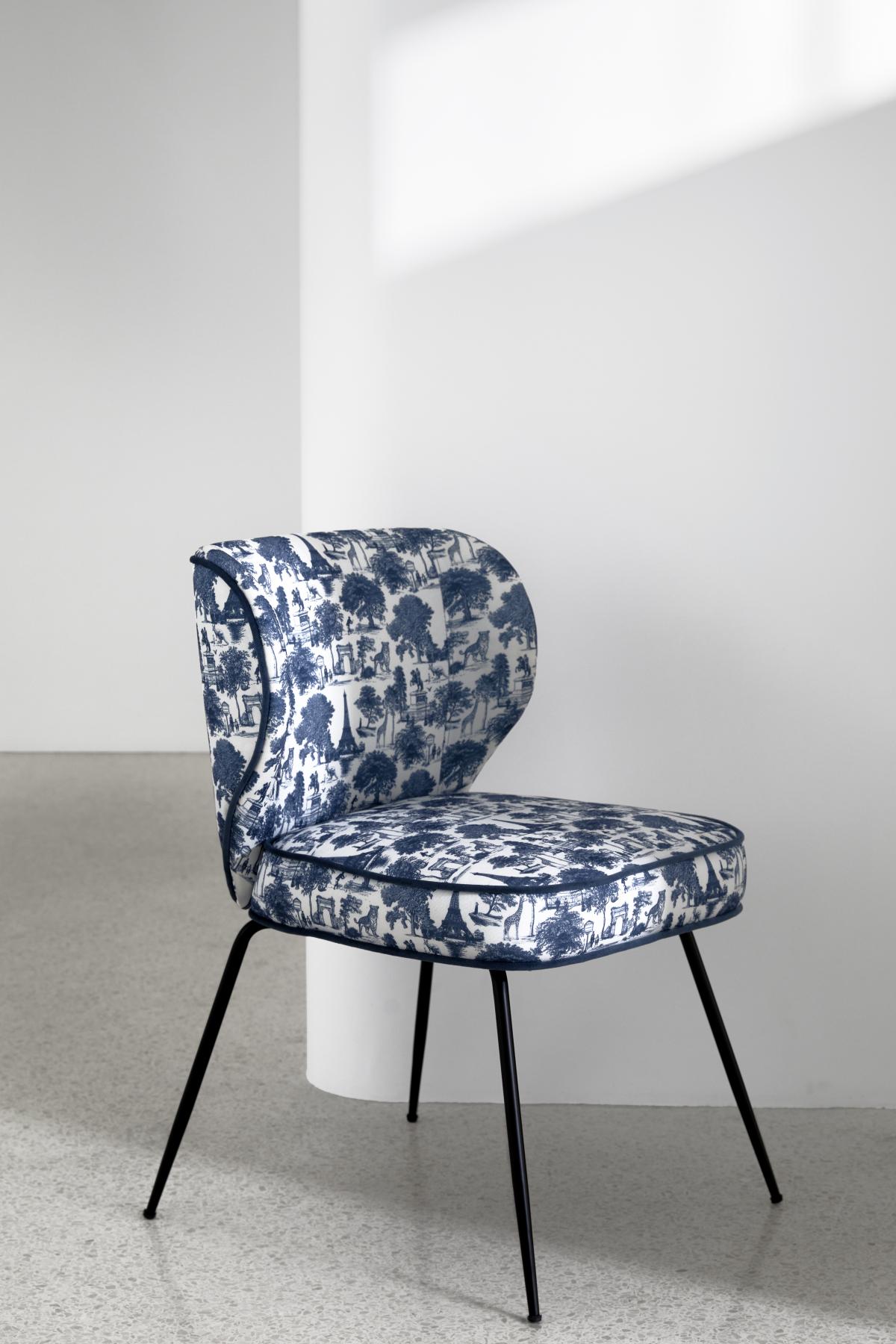 For Paris Design Week, NV GALLERY is unveiling an exceptional limited edition of its iconic design, the WAYNE chair, in a Toile de Jouy version. This limited edition is on display and available for sale in shops and online at nvgallery.com.
For Paris Design Week 2023, the WAYNE chair is combining its iconic design with French craftsmanship excellence to unveil a limited edition Toile de Jouy, the Iconic Frenchy. The WAYNE model, born in 2017 and inspired by Parisian chic, lends its characteristic curves to a material that has become cult, Toile de Jouy, currently enjoying a revival in the world of design.
Historically invented by Oberkampf, this fabric has been rethought and revisited by NV GALLERY especially for this event, paying homage to the DNA of the Parisian brand. The natural classicism of this print, combined with the silhouette of the seat, forms a playful treasure hunt in which the Parisian emblems that reflect the essence of this historic fabric are harmonised.
"One of the brand's first designs revisited with an in-house Toile de Jouy motif: design, timeless and trendy", Thibaut Saguet, President and Creative Director of NV GALLERY.
About NV GALLERY 
It was in 2016 that Natalie Hanczewski and Thibaut Saguet, both passionate about design and interior decoration, decided to found NV GALLERY. They realised that there was a gap in the furniture market that they wanted to fill. Their idea? To offer uniquely styled collections of furniture, lighting and decorative items that would break away from the standards already present on the market, and all at an affordable price. The success was immediate: launched in France, the NV GALLERY website is now present in Germany, the Benelux countries, the Netherlands, Austria, Switzerland, Italy and Spain. With a team of 45 people and a showroom right in the heart of Paris, NV GALLERY is continuing to expand, with the ambition of offering a lifestyle of distinctive, trendy and ethical design.
NV GALLERY designs its collections and products from A to Z. Designers, developers and creatives work hand in hand to offer the very best in trends and materials, with an eye for detail and value for money. The brand carefully selects its manufacturers to guarantee quality products that are built to last. With sustainability as its goal, the brand is committed to using materials responsibly and producing designs in sensible quantities. In 2022, the brand was awarded PETA-Approved Vegan certification, which guarantees that no animal materials are used in its collections.