Sempervirens: desirable objects for a sustainable world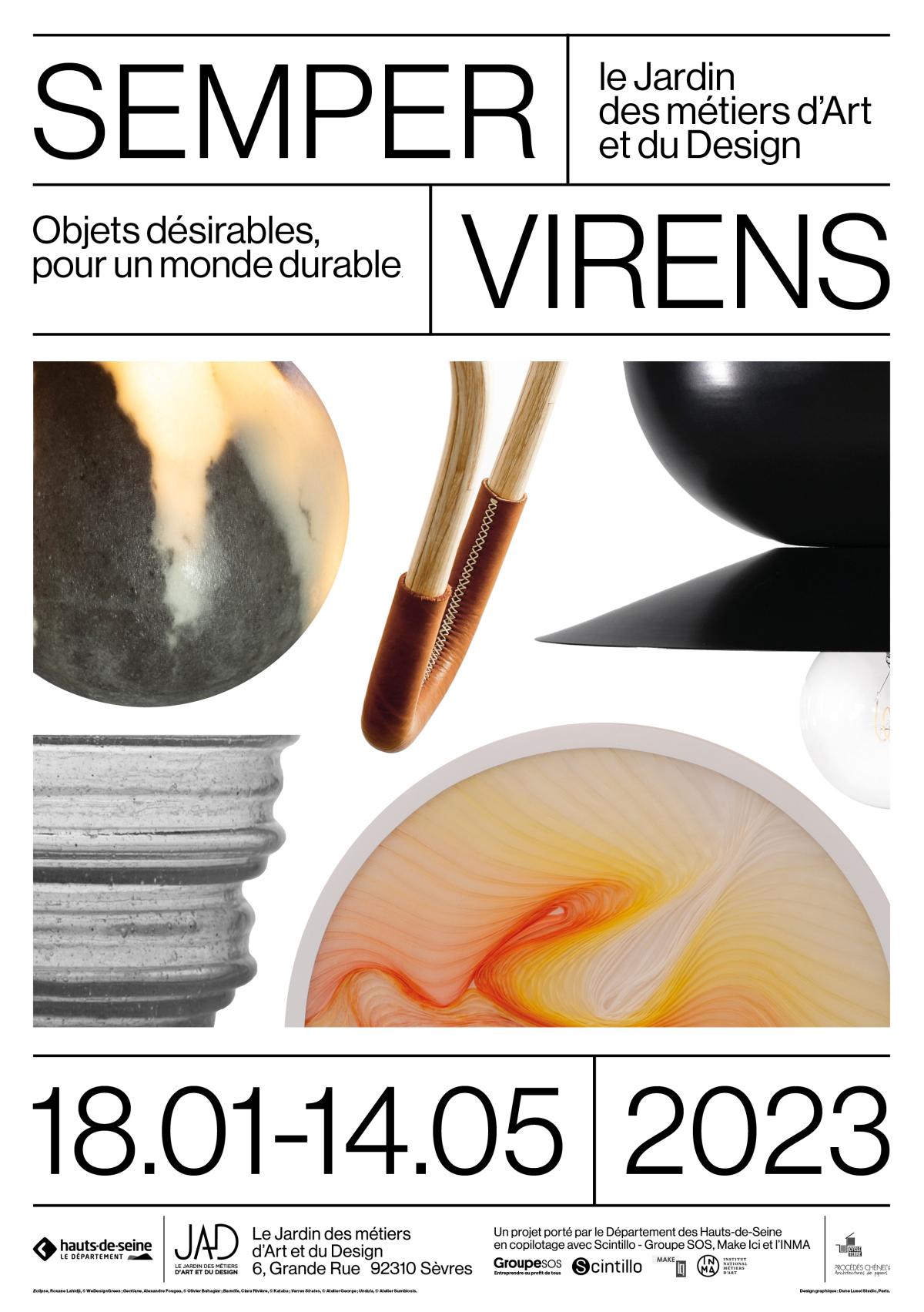 The new exhibition of the Jardin des Métiers d'Art et du Design (JAD), to discover from January 18 to May 14, 2023
The Jardin des Métiers d'Art et du Design (JAD) is pleased to announce its new exhibition "Sempervirens: desirable objects for a sustainable world"!
This exhibition presents around twenty designers of objects and as many designers of materials engaged in a sustainable development approach. They have in common a taste for dialogue between design, art and natural materials.
Open to the public from January 18 to May 14 2023, this exhibition presents the challenges of the ecological transition through the prism of excellent know-how and contemporary creation. It compares contemporary design pieces with traditional, reinterpreted or innovative natural materials.
Curated by Grégoire Talon, curator of the exhibition and director of the JAD project, and scenographed by Martin Blanchard, JAD designer, the exhibition is also sober in its scenography made of compressed earth bricks from Cycle Terre, a partner in the project.
These objects and materials, made from marine sediments, tree bark, pine resin, excavated earth from the greater Paris area, Breton or Rouergue sand, bamboo, seaweed or hemp, testify to the singular role that art craftsmen and designers have to assume today: to create desirable objects for a sustainable world.
It invites us to question the fabrication of reality and the heritage we will leave to future generations !
Discover the list of designers and studios invited for this exhibition:
Tony Jouanneau, designer
Lucile Viaud, designer
Atelier George, design studio
Baptiste Cotten, designer and engineer
Lisa Dartus & Tom Bussat, designers for Kataba
Clara Rivière, designer
Studio Cogitech, design, manufacturing and research workshop
Samuel Tomatis and Anais Jarnoux, designer and craftsman
Roxane lahidji, designer
Studio Corkinho, design studio
Martin Blanchard, designer
Cédric Breisacher, designer-sculptor
Amandine Antunez, craftsman
Studio Foam, design studio of Caroline Venet focused on materials and processes.
Pauline Androlus, designer
Ateliers d'Offard / D'offard Edition, design studio
RDAI, interior design agency
Studio Thomas Vailly, designer and researcher
Alexandre Fougea, designer